1080p HD Resolution CCTV Camera in Dubai
In the rapidly advancing world of security systems, the 1080p HD CCTV camera has emerged as a cutting-edge solution for safeguarding both residential and commercial properties. These cameras boast an exceptional resolution of 1920×1080 pixels, delivering crystal-clear imagery that captures even the finest details.
Access Your Security on the Go
The 1080p HD CCTV camera  app brings convenience and peace of mind to the palm of your hand. With this user-friendly application, you can remotely monitor your security cameras from anywhere using your smartphone or tablet. Stay connected to your property, even when you're away, and receive real-time alerts for any suspicious activity.
Clarity Redefined
A 1080p HD CCCTV Camera takes surveillance to the next level with its remarkable clarity and precision. Whether for home security or business monitoring, this camera ensures that every detail is captured in high-definition. Experience enhanced peace of mind knowing that your property is under the vigilant eye of an advanced surveillance system.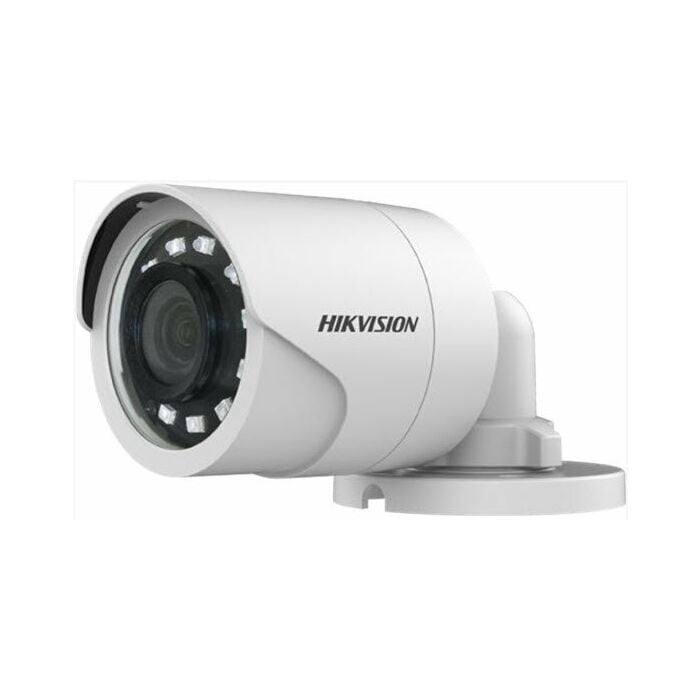 Trusted Name in Security
Hikvision has garnered a reputation as a credible and innovative vendor of security solutions. The Hikvision 1080p HD CCTCV Camera upholds this legacy by providing outstanding image quality, cutting-edge functionality, and durability. Protecting your possessions with a name that millions of people all the world trust.
Hikvision 1080p Camera Price
Security Within Reach
Despite its premium quality, the Hikvision 1080p HD CCTV Camera is available at a competitive price point, making it an accessible option for those seeking top-notch security without breaking the bank. Invest in a high-performance surveillance solution without compromising on your budget.
4 CHANNEL FULL HD SECURITY CAMERAS SYSTEM DVR KIT
Hikvision CCTV Cameras 
1x 4 CH DVR
4x  Power Supply Adapter
2x  Bullet Cameras (Outdoor)
2x  Dome Cameras (Indoor)
4x  10m Video Cables
1x  Network Cable
1x  USB Mouse
Hikvision 1080p Bullet Camera
Rugged Protection, Unparalleled Performance
Designed to withstand various weather conditions, the Hikvision 1080p bullet camera provides rugged protection for both indoor and outdoor use. With its infrared night vision capabilities, it ensures round-the-clock monitoring, offering unparalleled performance and peace of mind.
Swann 1080p Smart Security Camera
Intelligent Monitoring Simplified
The Swann 1080p HD CCTV Camera Smart Security Camera offers an intuitive and intelligent approach to surveillance. It delivers accurate alerts while constraining false notices and optimizing safety benefits since it has been fitted with revolutionary recognition of faces and detection of movement innovations.
The Dome Camera 1080p HD CCTV Camera  is the best choice when it comes to hidden surveillance since it combines an elegant exterior with excellent capabilities. Its compact form factor conceals the direction of the camera, deterring potential intruders while providing high-definition monitoring.
Record Every Moment in High-Definition
The 1080p DVR serves as the central hub for your security system, allowing you to record and store footage captured by your 1080p HD CCTV cameras. With ample storage capacity, seamless video playback, and user-friendly controls, the DVR ensures your property remains under constant surveillance.
Yale 4 Camera 1080p HD CCTV
Yale's Trusted Security Solution
Yale's 4 Camera 1080p HD CCTV Camera kit offers a comprehensive security package tailored to your needs. With four high-definition cameras strategically positioned, it provides complete coverage of your property, bolstering safety and delivering unmatched peace of mind.
Hikvision 1080p 2MP Turbo HD IR Bullet Camera
Uncompromising Precision
The Hikvision 1080p 2MP Turbo HD IR Bullet Camera goes beyond expectations, boasting 2 megapixels of resolution for unmatched precision. Its infrared capabilities enable exceptional night vision, ensuring that your property remains protected 24/7.
Hikvision Turbo HD 1080p Bullet Camera Price
Quality Meets Affordability
Hikvision's Turbo HD 1080p Bullet Camera strikes the perfect balance between quality and affordability. With its competitive price, you can equip your security system with reliable, high-definition surveillance without compromising your budget.
Unyielding Security in Any Weather
Designed to withstand the elements, the 1080p outdoor camera ensures uncompromising security, even in harsh weather conditions. Its robust build and weather-resistant features make it a reliable choice for monitoring the perimeters of your property.
Hikvision DVR 16 Channel 2MP 1080p
Versatile Surveillance Solution
The Hikvision DVR 16 Channel 2MP 1080p HD CCTV Camera offers flexibility and scalability for larger surveillance needs. With sixteen channels, it accommodates multiple cameras, allowing you to customize your security setup according to your property's unique requirements.
Uniting Clarity and Protection
The Full HD Security Camera sets a new standard for security monitoring, offering superior resolution and impeccable performance. With its advanced features and high-quality optics, this camera ensures that no detail goes unnoticed, providing comprehensive security
Dahua Full HD CCTV Camera
Power and Precision
Dahua's Full HD CCTV Camera excels in both power and precision, delivering outstanding video quality and advanced functionalities. Trust in Dahua's expertise to safeguard your property with cutting-edge surveillance technology.
1080p HD Mini Security Camera A9
Discreet Surveillance at Its Best
 The 1080p HD CCTV Camera HD Mini Security Camera A9 packs impressive surveillance capabilities into a compact form factor. Its discreet design makes it perfect for covert monitoring without sacrificing the quality and clarity expected from a high-definition camera.
Incorporating these advanced 1080p HD CCTV Camera  into your security infrastructure promises a new level of protection and peace of mind. Choose from the wide range of options available and invest in a security system that aligns perfectly with your needs, ensuring the safety of what matters most.
FAQS Related to 1080p HD CCTV Camera
Q:Is 1080p good for CCTV?
Absolutely! 1080p HD CCTV Camera  is considered a good resolution for CCTV cameras. It offers a high-definition (HD) video quality with a resolution of 1920×1080 pixels, providing clear and detailed imagery. This resolution is more than sufficient for most surveillance needs, enabling the identification of faces, license plates, and other crucial details. 1080p strikes a good balance between image clarity and storage requirements, making it a popular choice for both residential and commercial security applications.
Q:2 What is 1080p in CCTV cameras?
In the context of CCTV cameras, 1080p HD CCTV Camera refers to the resolution of the video footage captured by the camera. The "1080" in 1080p represents the number of vertical pixels in the image, which is 1080 pixels. The "p" stands for "progressive scan," indicating that the camera captures each frame sequentially, providing smooth video playback. A 1080p resolution offers a total of 1920 horizontal pixels and 1080 vertical pixels, resulting in a high-definition image with excellent clarity and detail.
Q:3 Is 4K better than 1080p for CCTV?
Whether 4K is better than 1080p for CCTV depends on your specific requirements. When compared with 1080p, 4K resolution gives a far bigger pixel count (3840×2160 pixels), producing images that have much more sharp and detailed. If you need to capture fine details over a large area or require enhanced clarity for critical identification tasks, 4K CCTV cameras would be a better choice. However, it's important to consider that 4K cameras may require more storage space and higher bandwidth for video streaming.
Q:4 What is better 2K or 1080p CCTV?
A screen size is 2560×1440 pixels that are which is more than 1080p resolution and fewer pixels than 4K, which has been referred to as 2K resolution quality. Compared to 1080p, 2K offers a noticeable improvement in image quality, providing clearer and more detailed footage. It can be an excellent middle-ground choice between 1080p and 4K, offering enhanced resolution without the storage and bandwidth requirements of 4K. If you prioritize image quality but don't necessarily need 4K-level detail, a 2K CCTV camera could be a suitable option.
Q:5 Is 5MP better than 1080p?
Yes, 5MP (5 Megapixels) is better than 1080p in terms of resolution. A 5MP camera typically has a resolution of 2592×1944 pixels, which is significantly higher than the 1920×1080 resolution of 1080p. As a result, 5MP cameras can capture more detailed images with better clarity. These cameras are particularly advantageous when monitoring larger areas or requiring clearer images for critical surveillance purposes. However, it's worth considering that 5MP cameras may require more storage space and higher processing power compared to 1080p cameras.