Communication with Cisco Phone Systems in Dubai
Cisco is a multinational technology company that provides a range of networking and communication solutions, including phone systems. Cisco's phone systems are widely used in businesses around the world, including in Dubai.
In Dubai, many organizations and businesses have deployed Cisco phone systems to meet their communication needs. 
These phone systems offer various features and capabilities, such as voice and video calling, conferencing, voicemail, call forwarding, and more.
Why Cisco Phone System Should Be Your Choice
Cisco Phone System is a popular choice for businesses due to several compelling reasons
Cisco is a well-established and trusted brand in the telecommunications industry. Their phone systems are known for their reliability, robustness, and consistent performance.
With Cisco, you can expect a high level of uptime and call quality.
Cisco offers a range of phone systems that can cater to the needs of small businesses as well as large enterprises:
Whether you have a few employees or thousands, Cisco can scale its phone system to accommodate your organization's growth.
Cisco Phone System integrates seamlessly with other Cisco collaboration tools, such as Cisco Webex, Cisco Jabber, and Cisco Unified Communications Manager:
This integration enables unified communications and collaboration across various channels, including voice, video, messaging, and conferencing.
Cisco Phone System provides an extensive set of features that enhance communication and productivity. These features:
include call forwarding, call waiting, voicemail, auto-attendant, conference calling, video calling, presence indication, and more. 
Cisco is renowned for its strong focus on security. The Cisco Phone System incorporates multiple layers of security measures to protect your communications and data:
This includes encryption, authentication mechanisms, access controls, and regular security updates to mitigate potential vulnerabilities.
Importance Of Cisco Phone System In Dubai
The Cisco Phone System holds great importance in Dubai due to its numerous benefits and features. Firstly, it provides a reliable and efficient communication infrastructure for businesses, facilitating seamless internal and external communication.
With advanced features such as call forwarding, voicemail, and conferencing, it enhances productivity and collaboration among employees. Additionally, the system offers robust security measures, protecting sensitive data and ensuring privacy.
List of Best Cisco Phone Systems in Dubai 2023:
Cisco UC320 Series Phone Systems: This phone system is designed for small businesses with up to 24 phones in a single location.
It offers features like voice and video calling, voicemail, auto-attendant, conferencing, and integration with Cisco Webex.
Cisco IP Phone 7800 Series: This phone system provides general business VoIP communications for small and medium-sized businesses.
It supports up to four lines and offers features like high-definition voice, full-duplex speakerphone, power over Ethernet, and customizable ring tones.
Cisco Unified IP Phone 7912G: This phone system is ideal for people who work in cubicles and experience low to medium levels of communication.
It supports one directory number and two phone calls and offers features like call forwarding, call waiting, hold, transfer, and redial.
Cisco Unified SIP Phone 3900 Series: This phone system provides affordable, occasional-use, and specialty VoIP communications for small businesses.
It supports one or two lines and offers features like speakerphone, mute, volume control, and message waiting indicator.
Alpha Capital Security Systems
Cisco Phone System Provider in Dubai
Easily Enhance And manage Your Business And Clients.  Safeguard your digital assets and ensure peace of mind with Alpha Capital Security Systems llc .
VoIP phones use the internet for calls instead of regular phone lines. They change your voice into digital data and send it online to the person you're calling.
These kinds of phones have some good things about them:
Cost Less: Making calls with VoIP is usually cheaper, especially for faraway calls.
Lots of Cool Stuff: VoIP phones often have more things you can do, like voicemail, group calls, and see who's calling you.
You Can Use Them Anywhere: If you have the internet, you can use a VoIP phone. That's useful for working from different places or when you're traveling.
To use a VoIP phone, you need the internet and a VoIP service provider. They have different plans and prices, so you can pick what fits your needs and money. After you choose a provider, you sign up for a plan and start using your VoIP phone.
They're usually easy to set up, and if you get stuck, the instructions or the provider's help can guide you. VoIP phones work well for businesses and people who want to save money on calls and get more features.
Choosing the Best Cisco Phone System
Choosing the right Cisco Phone System For Yourself in Dubai depends on a few Factors Like Your Business Size, What You Need, Your Budget, And Your Preferences.
Here are some tips to help you pick the best one: 
Figure out what you need from your phone system:
Do you need features like voice and video calling, voicemail, or integration with other apps? How many people will use it, and where will they use it?
Compare different Cisco phone system types:

Cisco Unified Communications Manager (CUCM): This is the main software that makes the Cisco phone system work.
Cisco IP Phones: These are the devices you use to make calls, and they come in different models with various features.
Cisco Jabber: It's a software app for messaging, calls, and more, and you can use it on different devices.
Cisco Webex: This is a cloud service for meetings and collaboration, and it works with Cisco phones.
Cisco Unified Contact Center Express (UCCX): It's for customer service, with features like call routing and reporting.

Think about the costs and benefits:
How much are you willing to spend, and what will it cost over time? Consider how each option performs and its pros and cons.
Get advice from a pro:
 If you're unsure, talk to an expert in Dubai who knows about Cisco phone systems. They can help with advice, setup, maintenance, and training.
By following these steps, you can find the right phone system that fits your needs in Dubai in 2023. I hope this makes your decision easier.
Integration Of Cisco Phone System
Cisco's Unified Communications (UC) solutions bring together different tools for working together better. These tools include making phone calls over the Internet, video meetings, voicemail, chat, and more. They all work together to help people work smoothly.
These solutions let you use real-time communication like phone calls and conferences along with messaging and chat. They can also connect with other business apps using special connections called APIs.
For example, the Webex App is an easy and secure tool for making calls, having meetings, and sending messages to get work done. The Unified Communications Manager helps save money, makes managing things simpler.
Cisco also explains how to connect different phone systems with Cisco Unity Connection. This can involve replacing one phone system with another or removing one from the connection.
Important to know is that each Cisco Unified CM cluster is like a separate phone system that can be added to the Cisco Unity Connection Administration. It's a way to organize and manage different phone systems.
Cisco phone system installation is setting up and getting a Cisco phone system ready for a business. Here's what it involves:
Planning: First, you plan everything – how many phones you need, what kind, and where they'll be.
Hardware Setup: Next, you put in all the physical stuff.
Software Setup:  After that, you configure the software part.
Testing: You make sure everything works by testing the phone system and how it connects with other business systems.
Training: Finally, you teach your employees how to use the phone system, covering the basics and any special features.
Installing a Cisco phone system can be tricky, so if you're not sure, it's a good idea to get help from a qualified Cisco phone system expert.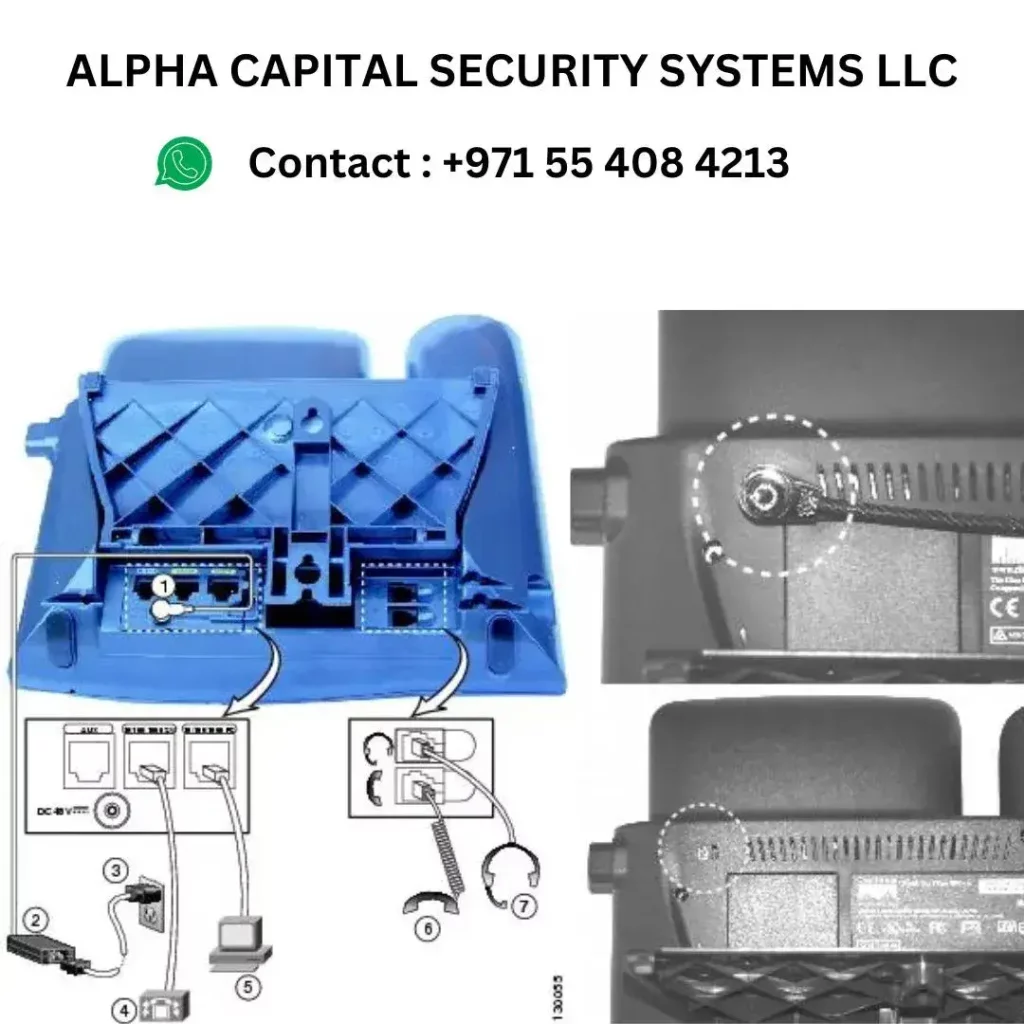 Cisco phone systems are well-liked by businesses of all sizes because they're dependable, adaptable, secure, and come with many useful features like VoIP, video meetings, voicemail, and group calls.
They can also work with lots of other tech stuff, such as CRM systems, call center software, and collaboration tools. This means you can adjust Cisco phone systems to suit what you need.
If you're thinking about getting a Cisco phone system, here are some things to think about
Features: Decide what things you need. Do you want to make calls over the Internet (VoIP)? Have video meetings? Get voicemail messages? Do group calls?
Adaptability: Make sure the phone system you choose can change and grow with your business.
Safety: Pick a phone system that keeps your talks and info safe.
Working with Other Tech: If you plan to connect your phone system with other tech stuff, make sure the phone system can do that.
After you've thought about these things, you can start looking for a Cisco phone system. There are lots to choose from, so you'll find one that fits your budget and what you need.
related product and services