Dahua DVR 4 Channel Essential for Home/Office Security
Dahua's 4 Channel DVR offers reliable surveillance with advanced features, perfect for small-scale security setups. Enjoy high-quality video recording and easy management.
What is a Dahua DVR 4 channel?
A Dahua DVR 4 channel is a digital video recorder that can record video from up to four security cameras. It is a popular choice for businesses and homes that need to monitor their property. Dahua DVRs are known for their reliability and affordability. They are also easy to install and use.
Dahua DVR 4 Channel in Dubai:
Dahua DVR 4 Channel is a unique choice for security systems in Dubai because of its excellent and advanced features. Let's explore the main features that identify the Dahua DVR 4 Channel as an excellent choice for your security needs.
High-Quality Video Recording
Efficient Storage Management
Advanced Motion Detection
Remote Accessibility
Expandable and Scalable
Features
Compact Design
High Definition Recording
Advanced Video Compression
Remote Viewing
Easy Installation
Specifications
Channels
4-channel support
Resolution
Variable resolutions
Storage Capacity
Ample internal or external storage options
Connectivity
HDMI and VGA outputs
Security Protocols
Advanced encryption and authentication
Compatibility
Dahua cameras and other security peripherals
Benefits of using a Dahua DVR 4 channel
The benefits of utilizing a Dahua DVR 4 Channel are multiple, making it an important component in current security systems. Firstly, its very small form offers easy fitting into different environments, especially helpful for smaller-scale uses. The high-definition recording tools promise clear video footage, giving ideal clarity of view for effective tracking. With advanced video coding technology, the DVR improves storage usage, allowing for longer recording times without compromising on quality. The 4-channel support improves freedom, allowing in progress tracking and recording from multiple cameras.
How to install a Dahua DVR 4 channel
Installing a Dahua DVR 4 Channel is an easy process that provides effective tracking for your security needs. Begin by picking an ideal position for the DVR, considering factors such as simplicity and coverage. Connect the DVR to the power source and ensure a stable internet link. Attach your cams to the matching channels, locking the links tightly. 
Once properly set up, turn on the DVR and follow the on-screen steps to select important settings like date, time, and network options. To allow distant watching, setup port forwarding on your computer and set up a Dahua DDNS account. Finally, install the necessary software on your watching device and log in to access your video system online. Refer to the user instructions for specific information and debugging tips to ensure a smooth installation process.
Alpha Capital Security System LLC offers a free consultant service to help you identify and address your security concerns. Contact us today to schedule your consultation and protect what matters most.
Troubleshooting Dahua DVR 4 Channel Problems
Troubleshooting Dahua DVR 4 Channel problems is an essential part of ensuring excellent video operations. When facing issues such as internet issues, video playing problems, or online watching problems, a structured method is important. Begin by checking the actual links, ensuring all wires are strongly put in. Verify the power source and network links to rule out possible problems.
If facing remote access issues, check network settings and ensure proper port switching. Utilize the DVR's user instructions and internet tools given by Dahua to find problem codes and their fixes. Regular software changes can also handle possible bugs or connection issues. Engaging with Dahua's customer support or visiting online forums can offer useful insights and solutions for a fast settlement of any problems, ensuring your Dahua DVR 4 Channel works effectively to protect your grounds.
Top 3 Dahua DVR 4 Channel Models
4 Channels Penta-brid 5M-N/1080p Cooper 1U 1HDD WizSense Digital Video Recorder
 H.265+/H.265 dual-stream video compression 
 Supports Full-channel AI-Coding 
 Supports HDCVI/AHD/TVI/CVBS/IP video inputs 
 Max 6 channels IP camera inputs, each channel up to 6MP; Max 32 Mbps incoming bandwidth 
 Up to 4 channels video stream ( analog channel ) SMD Plus
4 Channel Penta-brid 1080P Compact 1U Digital Video Recorder
 Embedded processor
H.264+/H.264 video compression
Support HDCVI/AHD/TVI/CVBS/IP video inputs
Max 6/12/24 channels IP camera inputs, each channel up
Smart Search and Intelligent Video System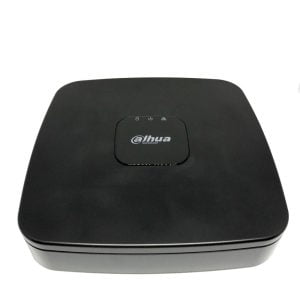 4 channel IP NVR with 4xPoE ports, up to 6MP resolution, 1xHDD
4-Channel Support
H.264 Video Compression
High Definition Recording
P2P Technology
Plug-and-Play Setup
Smart Search
Intelligent Video System (IVS)
Multiple Recording Modes
Dual-Stream Recording
HDMI and VGA Output
Alarm Inputs and Outputs
Remote Configuration and Management
Dahua 4CH CCTV Recorder Price in Dubai
Dahua 4CH CCTV Recorder Price in Dubai
Dahua is a leading manufacturer of surveillance equipment, and their 4CH CCTV recorders are a popular choice for businesses and homes in Dubai. Here are some of the most popular Dahua 4CH CCTV recorders and their prices in Dubai AED:
Dahua DH-XVR1B04H: A 4-channel hybrid DVR with a resolution of 1080P. Price in Dubai AED: 450.00
Dahua DH-XVR5104HS-S2: A 4-channel penta-brid DVR with a resolution of 1080P. Price in Dubai AED: 580.00
Dahua DH-NVR2104-P-S2: A 4-channel NVR with a resolution of 1080P. Price in Dubai AED: 820.00
These prices are for the recorders only, and you will also need to purchase cameras and other accessories. The total cost of a Dahua 4CH CCTV system will vary depending on the specific components you choose.
Here are some additional factors that can affect the price of a Dahua 4CH CCTV system:
The resolution of the cameras
The features of the DVR or NVR
The length of the warranty
The brand of the cameras and other accessories
Future Trends and Updates
Artificial intelligence (AI): AI is stuff used in DVRs to modernize video security. For example, AI can be used to sense movements, identify items, and recognize people. This can help to modernize the protection of homes and businesses.
Higher resolution: DVRs are now misogynist with images of up to 4K. This way, they can reserve increasingly more information and the largest pictures. This can be helpful for companies that need to spot people or items in their movies.
bigger field of view: DVRs are now misogynist with wider field of view cameras. This means that they can increasingly reserve a scene in a single picture. This can be helpful for businesses that need to watch big places.
Wireless: Wireless DVRs are becoming increasingly popular. This is considering they are easy to setup and can be used in places where there is no wired internet link.
Cloud storage: cloud storage is increasingly useful for DVRs. This is considering it allows users to share their movies online, where they can be viewed from anywhere in the world.
Where to buy a Dahua DVR 4 channel
Secure your property with a Dahua DVR 4 Channel – now available for buy at Alpha Capital Security Systems LLC. Contact us at +971 55 408 4213 or amjad@acssllc.ae, or visit our online shop at www.shop.acssllc.ae. Experience high-quality monitoring at amazing prices. Your safety, our top priority.