Eufy camera:
For homes and businesses in Dubai, Eufy Camera provides modern security solutions that offer peace of mind. Eufy Camera provides complete surveillance capabilities with features including motion detection, two-way audio, and night vision. Our company is committed to providing expert installation services that guarantee seamless integration and the best camera placement for increased security.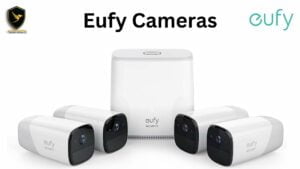 Introduction to Eufy Camera in Dubai:
The modern security system Eufy Camera provides residents and companies in Dubai with peace of mind. Eufy Camera delivers dependable surveillance capabilities with its modern technology and simple UI for increased safety and security. Eufy Camera offers a complete solution, whether you want to safeguard your family, watch over your property, or keep an eye on your company.
Benefits of Eufy Camera in Dubai:
You receive a number of advantages by purchasing an Eufy Camera in Dubai that improve your security and provide you with peace of mind. A few of Eufy Camera's main benefits are as follows:
The Eufy Camera produces clear, sharp video footage that precisely captures every detail.
Using your smartphone or tablet and the Eufy Security app, you can view your cameras from anywhere.
When suspicious behaviour is spotted, Eufy Camera's cutting-edge motion detection technology immediately notifies your device.
Eufy Camera's built-in microphones and speakers let you chat with guests or potential burglars.
Eufy Camera is designed for hassle-free installation, enabling you to quickly and effortlessly set up your cameras.
Our Professional Installation Services:
For your Eufy camera system to operate at its best, Our company understand the value of a qualified installation. Your cameras will be placed wisely and completely integrated with your current security system due to the expertise of our qualified installation specialists. You can be confident that your Eufy Camera system will be set up to offer optimum security and peace of mind with the help of our experienced installation services.
Eufy Camera Wireless Solutions:
Without the hassle of cables, wireless cameras offer versatility and simple installation. You can remotely monitor your property with a variety of wireless versions from Eufy Camera that link to your home network. Wireless cameras are a great option for both indoor and outdoor surveillance because of their easy setup processes and dependable connectivity.
Wireless cameras are gaining enormous popularity due to their ease of use and versatility. A variety of wireless options are available from Eufy Camera that offer dependable security without the need for complicated wiring.
Advantages of Wireless Cameras:
Over their wired counterparts, wireless cameras have various advantages.
Wireless cameras do not require complicated wiring, which simplifies and speeds up installation.
Since wireless cameras are not constrained by cables, you can move them around or place more cameras in other locations.
Wireless cameras provide you with the ability to use your mobile device to remotely access live video feeds and recordings, giving you security even while you're not at home.
Eufy Wireless Camera Models:
Different wireless models from Eufy Camera are available to meet a range of surveillance requirements. These models consist of
EufyCam 2C: An adaptable wireless camera with 1080p resolution, night vision, and an IP67 weatherproof rating.
EufyCam 2 Pro: A high-resolution wireless camera with 2K resolution, advanced artificial intelligence detection, and long-lasting battery life.
Eufy Indoor Cam 2K Pan & Tilt: A wireless indoor camera with 2K resolution, pan and rotate functionality, and human detection capabilities.
Installation Tips for Wireless Cameras:
To get maximum performance out of your Eufy Camera wireless system, examine the following installation tips:
To guarantee a steady connection, place your wireless cameras within the Wi-Fi network's coverage area.
The best camera placement involves strategically placing the cameras to cover entry points and susceptible regions.
If your wireless cameras are battery-operated, check the battery levels frequently to maintain continuous monitoring.
Eufy Camera Indoor:
If you want to monitor the interior of your home or place of business, indoor cameras are essential. Indoor Eufy Camera models are made to provide high-quality video while blending in with any environment. Understand how to set up inside cameras to get the most out of their performance for all-encompassing surveillance coverage.
Features of Indoor Cameras:
The indoor models of Eufy Camera have a number of features designed specifically for indoor monitoring, such as:
1080p HD Resolution: Indoor cameras record detailed video footage in high resolution.
Night Vision: Greater night vision capabilities guarantee clear visibility even in low-light conditions.
Two-Way Audio: Speakers and microphones built inside the device allow for easy conversation with guests or trespassers.
Activity Zones: Set up particular regions within the camera's range of view to receive signals for motion detection in specified regions.
Best Practices for Indoor Camera Placement:
Follow these placement recommendations to maximise the indoor cameras' effectiveness:
Entry Points: Place cameras close to doors, windows, or any other possible entry points to monitor any unusual behavior.
Install cameras in living rooms, corridors, and other public spaces to record a variety of behaviors.
Place cameras close to locations where precious goods are kept, like safes or jewellery cabinets, to protect those valuables.
Eufy Camera for Outdoor Security:
To protect the outer limits of your home and prevent possible invaders, outdoor monitoring is important. Strong outdoor security systems from Eufy Camera are made to resist a range of weather conditions.
Weatherproofing and Durability:
Weatherproofing measures are built into Eufy outdoor cameras to ensure dependable operation under challenging conditions. These cameras are designed to withstand the harsh outdoor conditions in Dubai, including sand, rain, snow, and freezing temperatures.
Essential Features for Outdoor Cameras:
Take into account the following features while choosing Eufy outdoor cameras:
Look for cameras with a high IP certification, like IP67, which indicates exceptional protection against water and dust.
To efficiently cover wider outdoor regions, choose cameras with a broad field of view.
To retain visibility in low-light situations, choose cameras with superior night vision capabilities.
Eufy Camera Outdoor Models:
Eufy provides outdoor cameras made especially for dependable outside surveillance:
EufyCam 2 Pro: An outdoor camera with 2K resolution, advanced AI detection, and durable battery life
EufyCam 2C Pro is a weatherproof outdoor camera with 2K resolution, extended battery life, and adjustable motion zones.
Eufy Camera 2K Technology:
The 2K technology used by Eufy Camera produces improved video quality with increased clarity and detail. You may choose your Eufy camera system more wisely if you are aware of the advantages of 2K resolution.
Understanding 2K Resolution:
The term "2K resolution" describes a horizontal video resolution of about 2,000 pixels. Compared to normal high-definition (HD) cameras, it has a clearer and crisper image quality. You may record footage in greater detail with 2K resolution, making it simpler to recognise people, licence plates, or other important details.
Benefits of Eufy Camera 2K:
Eufy Camera's 2K models provide several advantages:
Crisp and Clear Video Footage: The higher resolution ensures that every detail is captured accurately, providing more detailed and precise video footage.
Enhanced Zooming Capabilities: You can zoom in on particular regions without significantly losing detail when the resolution is higher.
Better Facial Recognition: Due to the 2K resolution, it is possible to recognise people filmed by the cameras more easily.
Recommended 2K Camera Models:
Eufy offers a wide range of 2K cameras to meet your surveillance needs:
EufyCam 2 Pro: This outdoor camera provides 2K resolution, advanced AI detection, and long-lasting battery life.
Eufy Indoor Cam 2K Pan & Tilt: An indoor camera with 2K resolution, pan and tilt functionality, and human detection capabilities.
Eufy Camera Pricing:
It's important to understand price elements and compare the costs of various camera models when picking Eufy Camera for your security requirements.
Factors Affecting Price:
The following variables may affect Eufy Camera system costs:
Camera Features: More expensive cameras may offer advanced features like greater resolution or AI detection.
Camera Type: Prices may vary depending on whether the camera is an outdoor camera, a cordless model, or a pan and tilt camera.
Additional Accessories: The price of additional accessories, such as mounts, skins, or storage choices, may increase.
Cost Comparison of Eufy Camera Models:
Compare the features and costs of various models to get the Eufy camera that best fits your budget. Choose a camera that meets your needs for surveillance while staying within your means by taking into account your unique surveillance requirements.
Choosing the Right Camera for Your Budget:
Eufy offers a range of cameras at various costs, ensuring there's an option for every budget. Prioritise the elements that are most important to you after evaluating your demands. Our skilled staff can help you choose the ideal camera that satisfies both your security needs and financial restrictions.
Professional Installation of Eufy Camera in Dubai:
Eufy camera systems are made to be installed quickly and easily; however, hiring a skilled installer can guarantee excellent performance and a perfect fit with your current security system.
The Importance of Professional Installation:
Professional installation offers several benefits:
Qualified workers have the abilities and experience needed to manage the installation procedure successfully.
Professionals may evaluate your property and carefully position the cameras to provide the greatest coverage and efficacy.
If applicable, professional installation guarantees seamless integration with your current security system.
Our Expert Installation Services:
For Eufy camera systems in Dubai, our company offers expert installation services. The entire installation process, including camera placement and network connection, will be handled by our knowledgeable professionals. We promise a smooth, safe installation that enhances the efficiency and usefulness of your Eufy camera system.
Ensuring Optimal Camera Placement:
Our professionals will strategically position the cameras during installation to cover vulnerable locations and provide all-encompassing surveillance. We make sure that your Eufy Camera system provides the finest security coverage for your property by carefully taking into account elements like camera angle, coverage range, and any blind spots.
Contact us today for
CCTV camera with professional installation
service in Dubai. Our experienced team can provide you with customized solutions that meet your security needs and ensure the safety of your property. Trust us as your reliable partner for CCTV Services in UAE, and experience the peace of mind that comes with robust and effective surveillance solutions.
Our expert team specializes in deploying top-tier Wifi camera for home tailored to your unique needs, ensuring robust surveillance and peace of mind. From residential properties to commercial establishments, our high-quality CCTV Camera  installations provide unmatched security and deterrence.