Ezviz c6n Camera in Dubai:
The Ezviz C6N is an innovative smart home CCTV Camera designed to protect your house and the people you love. This detailed article will go over the Ezviz C6N's  outstanding features and abilities while emphasizing how it can revolutionize your home security system. The C6N is a great choice for someone interested in technology or a homeowner hoping to enhance the safety of their house. So let's look in and discover more about the countless opportunities the Ezviz C6N offers.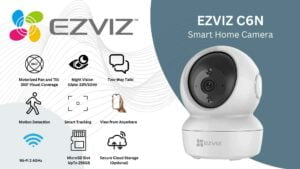 Ezviz c6n: Your Smart Home Guardian:
Modern smart home CCTV cameras like the Ezviz c6n combine modern technology with convenient functionality. This adaptable technology provides a comprehensive monitoring solution, protecting the safety of your residence and loved ones. The ezviz-c6n offers exceptional peace of mind by blending into any home setting with its clean style and strong functionality.
Features of the Ezviz c6n:
The Ezviz C6N stands out from standard security cameras because of its outstanding selection of functions. Let's examine some of its most important characteristics that make it an essential part of your home security system:
360-Degree Coverage:
With its panoramic coverage, the Ezviz c6n offers you a full view of your surroundings while removing blind spots.
High-Definition Video:
The Ezviz c6n's high-resolution camera captures crystal-clear video footage, which gives you an extremely clear view of every detail.
Two-Way Audio:
You can easily communicate with anyone nearby the camera due to the built-in microphone and speaker.
Motion Detection:
Advanced motion detection technology included in the Ezviz C6N makes sure that any movement causes immediate warnings to be transmitted to your mobile device.
Night Vision:
The Ezviz c6n's infrared sensors offer sharp and detailed pictures even in the darkest of nights, enabling dependable monitoring around the clock.
Intelligent tracking
Intelligent tracking allows the Ezviz c6n to keep a close eye on everything by automatically following moving objects.
Privacy Protection:
The Ezviz c6n respects your personal space and prevents recording in critical situations with customizable privacy zones.
EZVIZ C6N 1080p price in Dubai:
In Dubai, the EZVIZ C6N 1080p is available at a reasonable price of just 300 AED. The EZVIZ-C6N provides outstanding value for money because of its innovative features and high-definition video capabilities. The EZVIZ C6N offers dependable performance at a reasonable price point, whether you're trying to improve your home security or keep an eye on your surroundings. Don't pass up the opportunity to safeguard your house and live in peace without violating the law.
EZVIZ C6N installation:
We are happy to offer the EZVIZ C6N installation service in Dubai at an affordable price. We recognize the value of a dependable and effective installation procedure to guarantee your security system's maximum functionality. Our staff of professionals is qualified to handle the EZVIZ-C6N installation with accuracy and knowledge.
In addition to installation, we also offer maintenance services for making sure your EZVIZ-C6N functions smoothly and remains in excellent shape. Any maintenance needs may be handled by our skilled experts, who can also answer any questions you may have about the operation of the camera.
You can rest easily knowing that your EZVIZ-C6N is installed properly and backed up by our maintenance support because of our comprehensive service. With the EZVIZ C6N, you can invest in the safety of your house or place of business while benefiting from our reasonable prices and expert installation services in Dubai.
How to Set Up Ezviz c6n:
Due to its simple installation procedure and user-friendly design, configuring your Ezviz C6N is a snap. Here's a how-to manual to get you going:
Check that each component is present before opening the Ezviz-C6N box.
Get the Ezviz app from the Google Play Store or the App Store.
Launch the app, then register.
Connect a power source to the Ezviz-C6N.
Open the app, and then click "Add Device" to start the configuration procedure.
To connect the Ezviz-c6n to your Wi-Fi network, adhere to the on-screen directions.
Once connected, use the app to change the camera's choices and settings.
Using the included mounting kit, mount the Ezviz-C6N anywhere you want it.
By using your mobile device to access the live video stream, you can check the camera's operation.
Enhancing Home Security with the Ezviz c6n:
By offering advanced capabilities that improve your total security system, the Ezviz c6n goes above and beyond regular home security cameras. Let's check out how the ezviz-C6N raises the standard for your home security:
Seamless Integration:
The ezviz-c6n may be integrated with other smart home devices like smart locks, alarm systems, and lighting controls since it is compatible with a variety of smart home ecosystems.
Real-Time Alerts:
The Ezviz c6n will notify you of an alert as soon as it detects motion, keeping you informed of any possible dangers or strange behaviors.
Deterrent Alarm:
The built-in sirens on the Ezviz c6n may be remotely activated to alert neighbors to any strange activity and serve as a deterrent to burglars.
Multiple Storage Choices:
Take advantage of storage choices that provide you flexibility, such as cloud storage or local storage on a microSD card, for easy access to your film from anywhere.
Troubleshooting: Common Issues and Solutions:
Even though the Ezviz c6n is built for trouble-free operation, sometimes technical problems may arise. Here are some typical issues you could run into and their related fixes:
Issue: Poor video quality
Solution: Make sure the camera lens is spotless and unobstructed. To improve the quality of the video, modify the app's resolution settings.
Issue: Connectivity Problems
Solution: Verify the stability of your Wi-Fi network connection. If required, move the Ezviz C6N nearer the router. Restart the camera and reconnect with the app.
Issue: Wrong Motion Alerts
Solution:To reduce false alarms, lower the motion detection sensitivity in the app's settings. Make sure that moving things like trees or curtains are not visible in the camera's range of vision.
Issue: Unable to access live video. Workaround:
Solution: Make sure your mobile device is connected. You can restart your mobile device or close and reopen the ezviz app. Verify the Wi-Fi connection to the network and power on the camera.
Contact Us:
Contact us today for professional CCTV camera with installation service in Dubai. Our experienced team can provide you with customized solutions that meet your security needs and ensure the safety of your property.
Need A Free Consultant
Alpha Capital Security System LLC offers a free consultant service to help you identify and address your security concerns. Contact us today to schedule your consultation and protect what matters most.
Get a Free Consultant
Location:
Alpha Capital Security System provides state-of-the-art security solutions in the Umm Ramool area of Dubai, UAE. Their expert team offers customized security solutions tailored to your specific needs. Whether you need CCTV cameras, access control systems, or other security solutions, Alpha Capital Security System has got you covered.
5th street, Dubai UAE umm Ramool