Ezviz C8c Security Camera:
The Ezviz C8C Outdoor Smart Wi-Fi Pan and Tilt Camera is a modern security solution designed to offer complete monitoring of your outdoor areas. With so many great features, this camera is the perfect option for homes that place a high priority on safety. Let's examine the features that this camera offers in more detail:
Ezviz C8c Security Camera in Dubai:
It is essential for maintaining the safety and security of your residence or place of business, particularly in a busy city like Dubai. The Ezviz C8C  Camera has established itself as a trustworthy and successful security option given the quick improvements in surveillance systems. The Ezviz C8C Outdoor Smart Wi-Fi Pan & Tilt Camera is just one of the many Ezviz cameras we provide at our business, along with full installation and maintenance services.
Ezviz C8c Specification:
The specification of the Ezviz C8C Outdoor Smart Wi-Fi Pan & Tilt Camera are as follows:
For pristine video footage, a high-resolution lens and an advanced image sensor are used.
360-degree pan and tilt capabilities for thorough environmental monitoring
Real-time notifications of any questionable activities are sent using intelligent motion detection.
a two-way audio capability that makes it simple to converse with anyone around the camera.
Weatherproof construction ensures dependable functioning in a variety of weather scenarios.
The Ezviz C8C Outdoor Smart Wi-Fi Pan and Tilt Camera is a great pick for increasing security measures in Dubai due to these features.
Ezviz C8c  Features:
With so many advanced capabilities, the Ezviz C8C CCTV Camera stands above the competition. Let's analyse the main features that make this camera unique:
Crystal Clear Video Quality:
The Ezviz C8C CCTV Camera's excellent-quality lens and advanced-technology image sensor capture every detail with amazing clarity. You can depend on this camera for sharp and clear video footage, day or night.
Pan and Tilt Capabilities:
With a 360-degree field of vision, the camera enables you to easily watch the whole outside space. Using the Ezviz smartphone app, you can remotely operate the camera's pan and tilt features to make sure no area of your property is missed.
Intelligent Motion Detection:
The Ezviz C8C Outdoor Smart Wi-Fi Pan & Tilt Camera has the ability to detect intelligent motion. You may take fast action if necessary since it is able to accurately identify and alert you in real-time of any suspicious movements or actions.
Two-Way Audio:
This camera recognises that communication is essential for maintaining home or workplace security. Whether it's a delivery person at the door or a possible invader, you can listen in and converse with anybody near the camera using its built-in microphone and speaker.
EZVIZ C8c Price:
For consumers and companies in Dubai, the Ezviz C8C CCTV Camera offers a cost-effective security option. The Ezviz C8C camera's cost varies in Dubai based on the reseller and any other services offered. Our business offers the Ezviz C8C camera at cheap prices, so that you may improve your security precautions without going over budget. The Ezviz C8C Outdoor Smart Wi-Fi Pan & Tilt Camera provides exceptional value for its price in Dubai because of its advanced capabilities and dependable performance.
EZVIZ C8C Lite
Powerful and affordable, the EZVIZ C8C Lite security camera provides great surveillance capabilities. It records crisp and detailed video footage that improves visibility and gives users peace of mind thanks to its high-resolution lens and cutting-edge image sensor. No corner is missed thanks to the camera's pan and tilt capabilities, which provide versatile coverage of a large area. It prompts you to take instant action by alerting you to any suspicious behaviour thanks to its clever motion detection. The EZVIZ C8C Lite is a dependable solution for both home and commercial applications, providing a cost-effective choice without sacrificing performance or quality. Contact Us : +971 55 408 4213 / amjad@acssllc.ae
EZVIZ TY2 Smart Indoor Wi-Fi Camera FHD 1080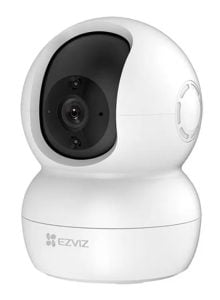 Motorized Pan and Tilt 360° Visual Coverage
Smart Night Vision with Smart IR (up to 10m)
Sleep Mode for Privacy Protection
Motion Detection, Smart Tracking
Two-way Talk
MicroSD Slot (up to 256 GB)
ezviz Security Camera H8C – 2K+ 4 Megapixel No Subscription Fee
2K⁺ Resolution, 360° panoramic coverage
Color night vision
Auto-zoom tracking
Two-way talk
Active defense with siren and strobe light
Weatherproof design
H.265 video technology
Supports microSD card up to 512 GB and EZVIZ cloud play storage
AI-powered human shape detection
Human motion auto-zoom tracking
Mini Wireless Indoor Security Camera
1080P Baby Monitor Night Vision
Battery Powered
Human Motion Detection
Two Way Audio Magnetic Base
Easy Installation
Cloud SD card Storage BC2
Ezviz Solar Panel Power Supply for Wireless Outdoor Security Camera Compatible With BC1C/BC1
Specifications
| | |
| --- | --- |
| Battery Size | 7800 MAh |
| Product Weight | 835 G |
| Colour Name | Black |
| What's In The Box | Surveillance Camera, Manual |
| Video Recording Resolution Type | 1080p |
| Water/Dust Properties | Dust Resistant |
| View Finder Type | LCD |
| Surveillance Camera Type | Bullet Camera |
| Product Length | 19.4 Cm |
| Product Height | 29.2 Cm |
| Product Width/Depth | 0.6 Cm |
| Camera Resolution | 1080 Px |
| Attribute Key | Compact Size, Durable, Lightweight, Easy To Install, Wattage |
| Attribute Value | Yes, Yes, Yes, Yes, 6.18 Watt |
| Features | Shock Proof |
| Model Number | CS-CMT-Solar Panel-C |
| Model Name | CS-CMT-Solar Panel-C |
| Item Qty | 1 |
| Inbuilt Flash | No |
Our Company: Providing Ezviz C8C Camera in Dubai:
Offering the best security solutions in Dubai is something that we truly care about at our company. We specialise in Ezviz cameras, including the Ezviz C8C Camera, as well as installation and maintenance. Here's what sets us apart:
Expertise in Security Systems:
Our team of professionals has a wealth of knowledge and skill in security systems and many years of experience in the field. We comprehend the particular security requirements of our customers in Dubai and offer specialised solutions to satisfy those objectives.
Wide Range of Ezviz Cameras:
We provide a variety of choices as an authorised dealer of Ezviz cameras. We offer the ideal option for you, whether you want inside cameras for your home or exterior cameras for your business property. One of our highlighted items is the Ezviz C8C Outdoor Smart Wi-Fi Pan & Tilt Camera, which is renowned for its cutting-edge features and dependability.
Complete Installation Services:
We prioritise giving our consumers a hassle-free experience. The whole installation procedure for Ezviz cameras, including the Ezviz C8C Outdoor Smart Wi-Fi Pan & Tilt Camera, is handled by our team of experts. We make sure the cameras are installed appropriately and seamlessly integrated into your current security systems.
Maintenance and Support:
We are dedicated to ensuring client happiness once the installation process is complete. For every Ezviz camera we install, we offer thorough maintenance and support services. Your security cameras will always be operating at their best thanks to the assistance of our professionals, who are accessible to answer any problems or worries you may have.
Contact us today for professional  CCTV Camera for Home with installation service in Dubai. Our experienced team can provide you with customized solutions that meet your security needs and ensure the safety of your property.
Our expert team specializes in deploying top-tier CCTV Camera for Home tailored to your unique needs, ensuring robust surveillance and peace of mind. From residential properties to commercial establishments, our high-quality
CCTV Camera
for Home installations provide unmatched security and deterrence.