Best Hikvision IP Cameras in Dubai
Hikvision IP cameras are the best surveillance solution for today's digital age. Protecting your property is essential, so we offer a wide range of Hikvision IP cameras in Dubai.
These cameras combine advanced technology with user-friendly interfaces for high-level security. When choosing a CCTV system, it's normal to have questions. It's essential to pick the right one, and that's where we come in. Alpha Capital Security Systems LLC offer a variety of Hikvision CCTV cameras to meet your specific needs. Many of our happy customers choose Hikvision CCTV systems because they are reliable and effective at improving security. We provide complete installation and maintenance of CCTV Cameras in Dubai, UAE.
Increase Security With Hikvision IP Cameras
Hikvision IP cameras are the ideal solution for modern surveillance needs. With outstanding image quality, easy installation, and wireless connectivity, WiFi cameras provide flexibility and distant access, allowing you to watch your property from anywhere with an internet connection. Hikvision IP Security cameras are weatherproof and discreet, making them ideal for outdoor use, even in challenging conditions. Hikvision, a trusted surveillance partner, offers reliable products tailored to your needs. Choose Hikvision IP cameras for proactive protection and relaxation of mind, knowing your property is safe 24/7.
IP Cameras Pro Series with AcuSense
Hikvision IP cameras with AcuSense technology is like giving super-smart eyes to security cameras. It helps homes and businesses stay safe both inside and outside. By using clever computer programs, AcuSense makes security cameras really sharp. People use these smart cameras in houses, factories, warehouses, shops, and parking areas. Hikvision IP Cameras work extra well because they use advanced computer vision.
Hikvision 4mp IP Camera DS-2CD2543G2-I(WS)
4 MP resolution Dome Network Camera
Precise imaging due to 120 dB WDR
H.265+ reduction technology
Focus on humans and vehicles based on deep learning
audio and alarm
Wi-Fi connection and easy installation
Water and dust-resistant
Built-in Mic
Hikvision 4mp IP Camera DS-2CD2046G2-IU/SL
4 MP resolution with AcuSense
Bullet Network Camera
Light and Audible Warning
Direct imaging against strong backlight due to 120 dB accurate WDR technology
H.265+ compression technology
Concentrate on human and vehicle target classification based on deep learning
built-in two-way audio
Water and dust resistant (IP67)
Alpha Capital Security Systems LLC offers a free consultant service to help you identify and address your security concerns. Contact us today to schedule your consultation and protect what matters most.
Hikvision IP Camera Value Series
Hikvision's Value Series Network Cameras were created to help small and medium-sized businesses meet their security needs. These cameras are reliable, intelligent, and affordable. These feature advanced ColorVu low-light imaging technology and Motion Detection 2.0, which can distinguish humans and vehicles from other moving objects. This technology ensures high-quality footage, even in low-light conditions.
2 MP Hikvision IP Camera DS-2CD1023G2-LIU(F)
2 MP Bullet Camera with Hybrid Light
Support Human and Vehicle Detection
Advanced long-range Detection
Built-in microphone
Water and dust resistant (IP67)
H.265+ compression technology
Support storage up to 512 GB (SD card slot) (Optional)
8 MP Hikvision IP Camera DS-2CD1383G2-LIU(F)
8 MP Fixed Turret with Hybrid Light
Support Human and Vehicle Detection
Advanced long-range Detection
Built-in microphone
Water and dust resistant (IP67)
H.265+ compression technology
Support storage up to 512 GB (SD card slot) (Optional)
Applications of IP Cameras
Different businesses and organizations in Dubai use Hikvision IP cameras for various purposes. These cameras have advanced features like facial recognition, people counting, and heat mapping, which help improve security and optimize operations. Such establishments include retail stores, offices, warehouses, banks, hospitals, clinics, transportation infrastructure, and government institutions.
Residents:
Residents also use Hikvision IP cameras to protect their homes and monitor entrances. These cameras come equipped with features such as two-way audio, mobile alerts, and remote access, which allow residents to stay connected to their homes and have peace of mind even when they are away.
Transport Infrastructure:
Hikvision IP cameras play a significant role in providing the protection and safety of transport infrastructure, such as airports, metro stations, and highways. Hikvision IP cameras help monitor traffic flow, detect incidents, and manage crowd control, contributing to smoother operations and emergency response.
Government Institutions:
Government institutions, public parks, and educational facilities benefit from Hikvision IP cameras' strong surveillance capabilities. These cameras monitor public spaces, prevent unauthorized access, and ensure the safety of citizens. Hikvision's video analytics features assist crowd management during events, enabling authorities to respond promptly to potential security concerns.
Healthcare Sector:
Hikvision IP cameras in hospitals, clinics, and healthcare facilities help enhance security and protect sensitive areas. They monitor entrances, corridors, and parking lots, securing a secure atmosphere for patients, teams, and visitors. Features such as facial recognition enable authorized personnel to access restricted areas, enhancing security protocols.
Hikvision IP Camera Price in Dubai
| S.No | Camera model | Resolution | Features | Price (AED) |
| --- | --- | --- | --- | --- |
| 1 | Bullet Camera DS-2CD2043G0-I | 4MP | H.265+, 2K HD, 4.0mm lens | 249 |
| 2 | Bullet Camera DS-2CD1023G0E-I | 2MP | H.265+, 1920x1080p, wireless | 247 |
| 3 | Bullet Camera DS-2CD2T45G1-I | 4K | H.265+, motorized lens, POE | 1,199 |
| 4 | Torrent Camera DS-2CD1323G0E-I | 2MP | H.265+, 1920x1080p, outdoor | 247 |
| 5 | Dome Camera DS-2CD2141G1-I | 4MP | H.265+, 2K HD, Dome | 399 |
Hikvision IP Cameras Panoramic Series (PanoVu)
Hikvision's PanoVu Series Cameras, the innovative solution for simplifying complex video security setups in large indoor and outdoor areas like lobbies, plazas, and business parks. In the past, these spaces required multiple cameras, which made installation complicated and difficult. But now, with just one PanoVu camera, you can cover a wide area.
How do i find my hikvision camera ip address?
Download and install the Hikvision SADP Tool from the Hikvision website.
Open the SADP Tool and connect it to your network.
The SADP Tool will automatically scan your network and list all of the Hikvision devices on your network.
Find your Hikvision camera in the list and click on it.
The IP address of your Hikvision camera will be displayed in the "IP Address" field.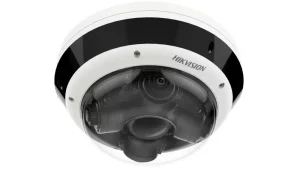 4 Directional Hikvision IP Camera DS-2CD6D44G1-IZS
4-Directional Multisensor IP Camera
4 adjustable lenses in one camera cover up to 360° field of view
Each lens has up to 4 MP
120 dB accurate WDR technology
Water, dust-resistant and vandal-proof
Audio and alarm interface available
Hikvision 4 MP IP Camera Dual-Directional DS-2CD6D42G0-IS
Dual-Directional PanoVu IP Camera

 4 MP resolution cameras

3D DNR technology, precise imaging

Supports 2-channel WDR

Waterproof and dust-resistant 

Built-in microphone