Hikvision PTZ cameras are advanced cctv cameras These cameras come equipped with motorized pan, tilt, and zoom functionalities, allowing users to control the camera's movement and focus remotely.
Hikvision PTZ CCTV Camera Installation in Dubai
If you're seeking expert Hikvision PTZ camera installation services in Dubai, look no further! Our team of experienced technicians is equipped to handle the entire installation process, ensuring your cameras are strategically positioned and optimized for maximum performance. We also provide comprehensive training on camera operation and maintenance, empowering you to utilize your surveillance system fully.
Hikvision High-Resolution PTZ Camera
If you require high-quality video footage, Hikvision's PTZ cameras with resolutions of up to 4K are an excellent choice. These cameras provide exceptional image clarity, making them perfect for surveillance applications that demand precise monitoring of large areas or the capture of intricate details. With advanced zoom and pan features, these cameras allow users to concentrate on specific regions of interest and track moving objects, enhancing situational awareness and security. Additionally, their user-friendly interfaces and intuitive controls make them easy to operate, even for new users.
Hikvision Outdoor PTZ Camera
With advanced capabilities and a durable design, the Hikvision PTZ Camera is designed specifically for outdoor monitoring and will provide dependable performance in every kind of weather situation. This camera is perfect for the job of strengthening security generally, guarding a perimeter, or watching an important outdoor region. The pan-tilt-zoom capabilities of the Hikvision PTZ cameras are one of its main advantages. You may quickly change the viewing angle and concentrate on particular regions of interest with fine control over the camera's movement. 
Alpha Capital Security Systems LLC offers a free consultant service to help you identify and address your security concerns. Contact us today to schedule your consultation and protect what matters most.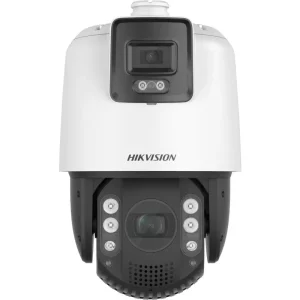 Hikvision PTZ Camera 4 MP DS-2SF8C425MXG-EL/26
4 MP resolution
Panoramic channel tilt adjustable from 12° to 24°
Secures an expansive area with 42 × optical zoom and 25 × digital zoom
Expansive night view with up to 30 m white light distance and 300 m IR distance
Supports deep learning functions
Water and dust resistant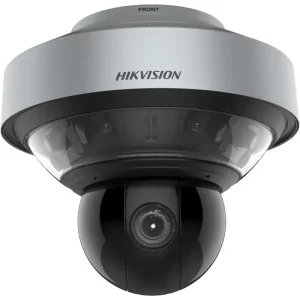 Hikvision PTZ Camera 32 MP DS-2DP3236ZIXS-D/440(F0)(P4)
32 MP resolution

360° Panoramic & PTZ Camera

40x optical zoom and 16x digital zoom provide close up views over expansive areas
Expansive night view with up to 250 m IR distance
Supports 7 alarm inputs, 2 alarm outputs, 1 audio input, and 1 audio output
Hikvision PTZ Camera Features:
Zoom, pan, and tilt features for flexible and in-control surveillance
360-degree rotation and wide-angle coverage for comprehensive surveillance
Excellent zoom capabilities for taking distant pictures that are clean and detailed.
For features like object tracking, facial recognition, and motion detection, advanced image sensors and clever video analytics are used.
Having night vision allows for accurate low-light monitoring.
straightforward connection with current security systems.
Remote control and access via a computer or portable device
high-quality building materials for dependability and longevity.
Numerous versions and configurations are available to accommodate different surveillance requirements.
For both home and business applications, improved security and effective surveillance systems are available.
Hikvision PTZ Camera Price:
| S.no | Camera Model | Megapixels (MP) | Description | Price (AED) |
| --- | --- | --- | --- | --- |
| 1 | Hikvision DS-2DF8223I-AEL(W) | 2MP | Full HD resolution with PTZ capabilities | 1,200 AED |
| 2 | Hikvision DS-2DF6A236X-AEL | 4MP | Higher resolution for detailed video capture | 1,800 AED |
| 3 | Hikvision DS-2DF8336IV-AEL | 5MP | Sharp and detailed images for surveillance | 2,200 AED |
| 4 | Hikvision DS-2DF8C842IX-AELW | 8MP | Ultra-High Definition (UHD) video quality | 3,500 AED |
| 5 | Hikvision DS-2DE4A425IW-DE | 12MP | Exceptionally detailed images in 4K resolution | 5,000 AED |
| 6 | Hikvision DS-2DE7A404IW-AE | 32MP | Top-of-the-line 4K camera with unparalleled clarity | 7,800 AED |
Hikvision PTZ Camera Maintenance:
To maintain the durability and efficient operation of your surveillance system in Dubai, our company offers top-notch Hikvision PTZ camera maintenance services. To keep your PTZ cameras in excellent condition, our qualified experts do routine inspections, cleanings, and troubleshooting. We recognise how crucial it is to keep surveillance systems functioning effectively, and our staff is equipped to handle every element of PTZ camera maintenance. We make every effort to reduce downtime and increase the dependability of your PTZ cameras, whether it be through firmware upgrades, calibration, or problem solutions. You can rely on us to provide top-notch service and see to it that your surveillance system in Dubai runs without a hitch. Contact us today at +971 55 408 4213 for Hikvision CCTV cameras and installation in Dubai. We're here to provide you with tailored security solutions to keep your property safe.