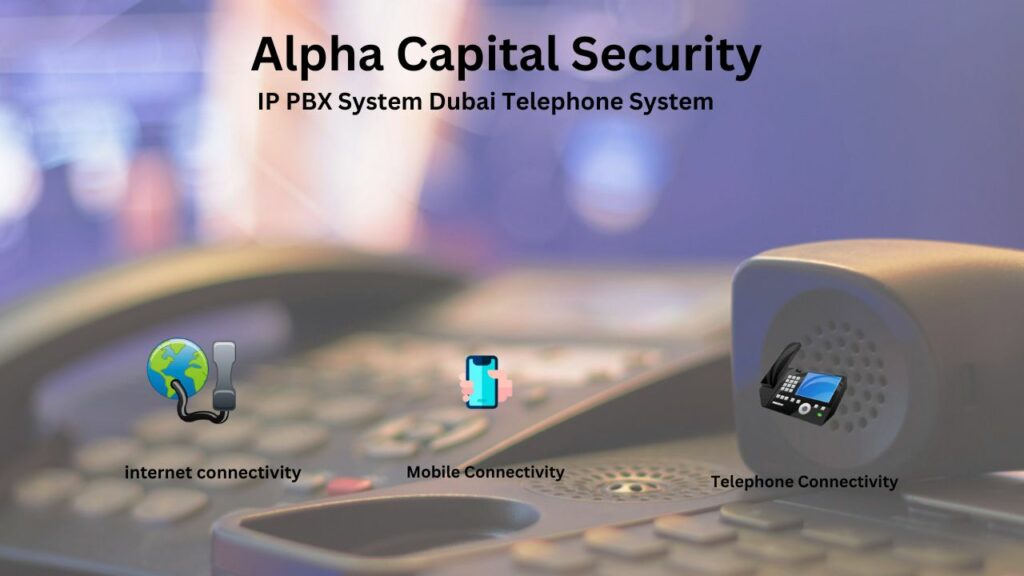 IP PBX System Dubai

Superior Telephone IP PBX Systems for Uplifting Your Business
Alpha capital holds a great reputation in the world of information technology services and telephone systems. Our services are unmatched because we continuously strive for perfection. We offer highly competent support and business telephone systems across the Middle East, UAE, and Africa. We understand that running a successful business requires quality communication services between staff and customers. We offer the best telephone systems that can take your business to another level. Let us provide you with a brief overview of our office telephone systems in Dubai.
Telecommunication is a key element of business. Reliable communication is a unique combination of the right product and price. Opting for the cheapest solution is a sign of a false economy as it fails to meet your specific needs. Alpha Telecom realizes this and provides your business with a broad range of quality services and products at affordable prices. We will help in providing good products and services according to your needs. We offer to help  and support to ensure you make the most out of them .If you want a friendly, gimmick-free service that is easy to understand and supports you wherever you need it, then you need us! 
We supply and install the best telecom solutions for your business, including the latest generation of telephone systems. Before recommending a solution, we assess your business infrastructure and objectives, showcasing our excellence.
Superior and Flawless Office Telephone Systems
We provide an extensive selection of customer specific office telephone systems. Alpha Capital offers a wide selection of premium goods at competitive pricing. We don't simply work for your business; we also work for your business internally, earning your trust by offering you the greatest solutions. We integrate network services to create prolific creative opportunities for your business. Here are a few things we do to enhance your business:
Who We Work With
we equip your business with the best Telecom tech in the market. We supply communication systems from top brands, showing our commitment to valuing your business. We only work with the best manufacturers to provide your business with leading-edge technology. 
Here are the brands we proudly represent
Cisco Telephone System

Avaya Telephone System

Panasonic Telephone System

NEC PABX System

Yeastar Mypbx Telephone System

Dlink Telephone System

Grandstream Telephone System

Samsung Telephone Systems
Cisco Telephone System
Cisco Unified Communication Manager Express is an affordable and customizable branch solution. Cisco telephone systems are scalable and easy to deploy. The configuration is simple for those with basic knowledge of Cisco infrastructure. The Cisco telephone system supports converged applications such as quality of service, video, content networking, Extensible Markup Language services, Ethernet, firewall, DSL, and VPN. Contact us today for Cisco office phone system solutions.
Avaya Telephone System
Avaya Dubai services are worth trying as well. We supply, installs, and maintains the Avaya Communication Manager, Avaya IP Office, and Avaya IP500. Avaya IP Office is a complete solution that meets the requirements of small and medium-sized businesses. It can be scaled from three to three-hundred and sixty extensions to suit your office needs. IP500 is expandable, modular, and flexible according to your business needs. It supports adding extensions, modules, and line cards to the system processor.
Panasonic PBX Dubai
Panasonic telephone systems are leaders in the business telephone system industry in Dubai. The Hybrid IP PBX System Dubai combines PBX functions with the reliability of IP technology. With Panasonic, you get a quality business communication system that provides superb telephone messaging solutions, IP networking capability, wireless mobility, Voice-Over-IP, and integration with PCs through USB Plug-n-Play Connection.
NEC PBX Dubai
NEC telephone systems allow you to work more effectively and productively. These secure and safe telecom systems provide effective call management, feature-rich handsets, and call center solutions. We support you in one of your most important business decisions, building your phone and telecommunications system. Contact us today for NEC installation.
Yeastar MyPBX
Companies with high call volumes and multiple offices can greatly benefit from the Yeastar MyPBX telephone system. It is a powerful hybrid IP PBX system Dubai that supports PRI connections, analog public internal connections, and GSM lines. Deploying one of these effective communication systems can accelerate the success of your business venture.
Grandstream Distributor UAE
Grandstream is an affordable and feature-rich telephone system for your office in Dubai, UAE. It is a stable IP PBX system Dubai designed to deliver enterprise-class features to your business. Enjoy unified communication capabilities with Grandstream, including voice mail, IVR, mobile calling app, remote office user, office-to-office connectivity, business hours, and more. Use your choice of SIP phones with the Grandstream IP PBX System Dubai.
Dlink IP PBX System Dubai
Dlink offers innovative products to its customers. Dlink IP PBX systems are highly cost-effective and feature-rich. Dlink PBX offers enterprise features without any licensing fees. Once you purchase a Dlink telephone system, you don't have to spend anything extra for features. Everything a modern office requires is included in a single box. Once the hardware reaches maximum user capacity, you can simply add additional systems, and they work as a single system. Sounds good, right? Don't wait. Call us now for the best price in Dubai and expert office phone system installation service.
Samsung IP PBX System Dubai
Samsung PBX SYSTEM has been designed to deliver advanced voice, data, and wireless communications on a single platform. Samsung OfficeServ PBX system provides a secure IP convergence communication system for the 21st century. Samsung PABX is a communication solution offering the best system with advanced and proven technology. No matter how large your demands are, Samsung can offer answers. A combination of Samsung's expertise in wireless communications, digital technology, core networks, and IP technology has produced the next generation IP solution for your business.
What is an IP PBX, and Why Do You Want an IP PBX System Dubai?
IP PBX systems are the present and future of telephone systems. They are more feature-rich than traditional analog telephone systems, allowing businesses to be more productive. Features such as mobility and unified communications enable users to make and receive calls and voicemail from anywhere, even when on a business trip outside the country. Unified communication combines voice, video, and fax capabilities into a single location.
In other words, IP telephony/VoIP uses your corporate network for communication, allowing voice and data to be transmitted over the same network. This reduces network management and infrastructure costs significantly. IP PBX systems Dubai and IP phones are not directly connected with cables. All IP phones are connected to a centralized network switch along with the IP PBX system Dubai. Communication between phones and the IP PBX system is completely over the network.
At Alpha Capital, we have expertise in IP Telephony and can recommend the best IP PBX system based on your business requirements. Our highly skilled sales engineers and telephone installation engineers ensure that your business becomes more productive with the new telephone system. You can call us during office hours at +971 55 408 4213 for a free telephone system consultation. We supply and install office phone systems all over the UAE, including Abu Dhabi, Dubai, Sharjah, Umm Al Quwain, Al Ain, Ajman, Ras Al-Khaimah, and Khor Fakkan.
If you didn't find the solutions you were looking for, please check out these other options:
Telephone Systems & PBX in Dubai
Video Conferencing in Dubai
Dect Cordless Phones in Dubai
Conference Phones in Dubai
Telephone System Support in Dubai
IT Service in Dubai
Alpha Capital is a trusted provider of telephone systems and IT services in Dubai. They offer a wide range of high-quality office telephone systems from top brands, tailored to meet the specific needs of businesses. With their commitment to excellence and customer support, Alpha Capital can help take your business communication to the next level.
FAQs:
Why should I choose Alpha Capital for my telephone system needs? 
Alpha Capital stands out for its unmatched service and commitment to providing tailored solutions. They offer a large number of great telephones systems.
What brands of telephone systems does Alpha Capital offer? 
Alpha Capital proudly represents top brands such as Cisco, Avaya, Panasonic, NEC, Yeastar, Grandstream, Dlink, and Samsung. They ensure that businesses have access to leading-edge technology and reliable communication solutions.
What is an IP PBX system, and why should I consider it?
 An IP PBX system is a modern telephone system that uses internet protocol to transmit voice and data over the same network. It offers advanced features, mobility, and unified communications, making businesses more productive. IP PBX systems also reduce infrastructure costs and provide flexibility for remote work.
Can Alpha Capital assist with installation and support? 
Yes, Alpha Capital provides installation services for telephone systems and offers ongoing support to ensure your system functions optimally. Their skilled sales and installation engineers are available to guide you through the process and provide expert assistance.
Does Alpha Capital serve locations beyond Dubai?
 Yes, Alpha Capital serves various locations across the UAE, including Abu Dhabi, Sharjah, Al Ain, Ajman, Ras Al-Khaimah, Umm Al Quwain, and Khor Fakkan. They provide office phone system installation and support services throughout the region.
How can I contact Alpha Capital for a consultation?
 You can reach Alpha Capital for a free telephone system consultation by calling +971 55 408 4213 during office hours. If you need our services can send   email with your inquiries and requirements.