The Wireless Hikvision IP Camera DS-2CD2543G0-IWS
Security cameras have become an integral part of our technologically advanced world. From home security to business surveillance, having a dependable security system is a must. Recently, the wireless Hikvision IP camera DS-2CD2543G0-IWS Wireless IP Camera has been gaining traction. Combining cutting-edge features with advanced technology, the wireless Hikvision IP camera DS-2CD2543G0-IWS provides users with an advantageous solution for their security needs. In this review, we will uncover the incredible features this IP Camera offers, and examine why it stands out in the market.
Hikvision, Design and Build Quality
 The wireless Hikvision IP camera DS-2CD2543G0-IWS is an example of modern design in its purest form; its minimalistic white hue and small size giving it an effortless yet refined aesthetic, perfect for any environment both indoors and out. Crafted of top-grade materials, its resiliency is affirmed, even during the roughest of weathers. With an IP67-rate waterproofing, dust and rain won't be a problem – and neither will extreme temperatures. If you're looking for outdoor surveillance that won't let you down, the DS-2CD2543G0-IWS is the ideal choice.
Video Quality and Resolution for  Hikvision
The DS-2CD2543G0-IWS stands out with its superior video quality, leveraging a 4-megapixel CMOS sensor to provide vivid and detailed images. During the day and night, it delivers pristine footage, enabling users to observe every detail. Furthermore, the camera comes with an IR cut filter and IR LEDs, allowing it to view even in total darkness up to 30 meters away.
Advanced image processing technology further heightens the image, making it sharp and distortion-free. With adjustable settings like brightness, contrast and saturation that users can tweak to their own preferences, visuals are optimized for that individual. These features further enhance the image – capturing its bolder details and bringing each picture to vivid life. So, no matter what, the DS-2CD2543G0-IWS promises reliable video quality and dependable surveillance.
 Hikvision's Wireless Connectivity and Setup
The wireless Hikvision IP camera DS-2CD2543G0-IWS is a wireless IP camera with the convenient benefits of easy installation and flexible placement. It eliminates the need for heavy cables with Wi-Fi connectivity – providing live footage and recordings through a compatible smartphone or computer from afar. Better still, the camera is equipped for PoE (Power over Ethernet), with one single cable powering both data and power transmission – ideal for more isolated areas without a solid Wi-Fi connection. 
Installing the DS-2CD2543G0-IWS is a simple process that can quickly be completed using the Hik-Connect mobile app or an appropriate web browser interface. The former even providing step-by-step instructions for setup. With a suitable connection made, users have full access to the camera's features and controls – enabling ease of configuration and management.
Two-Way Audio and Intelligent Features, The Hikvision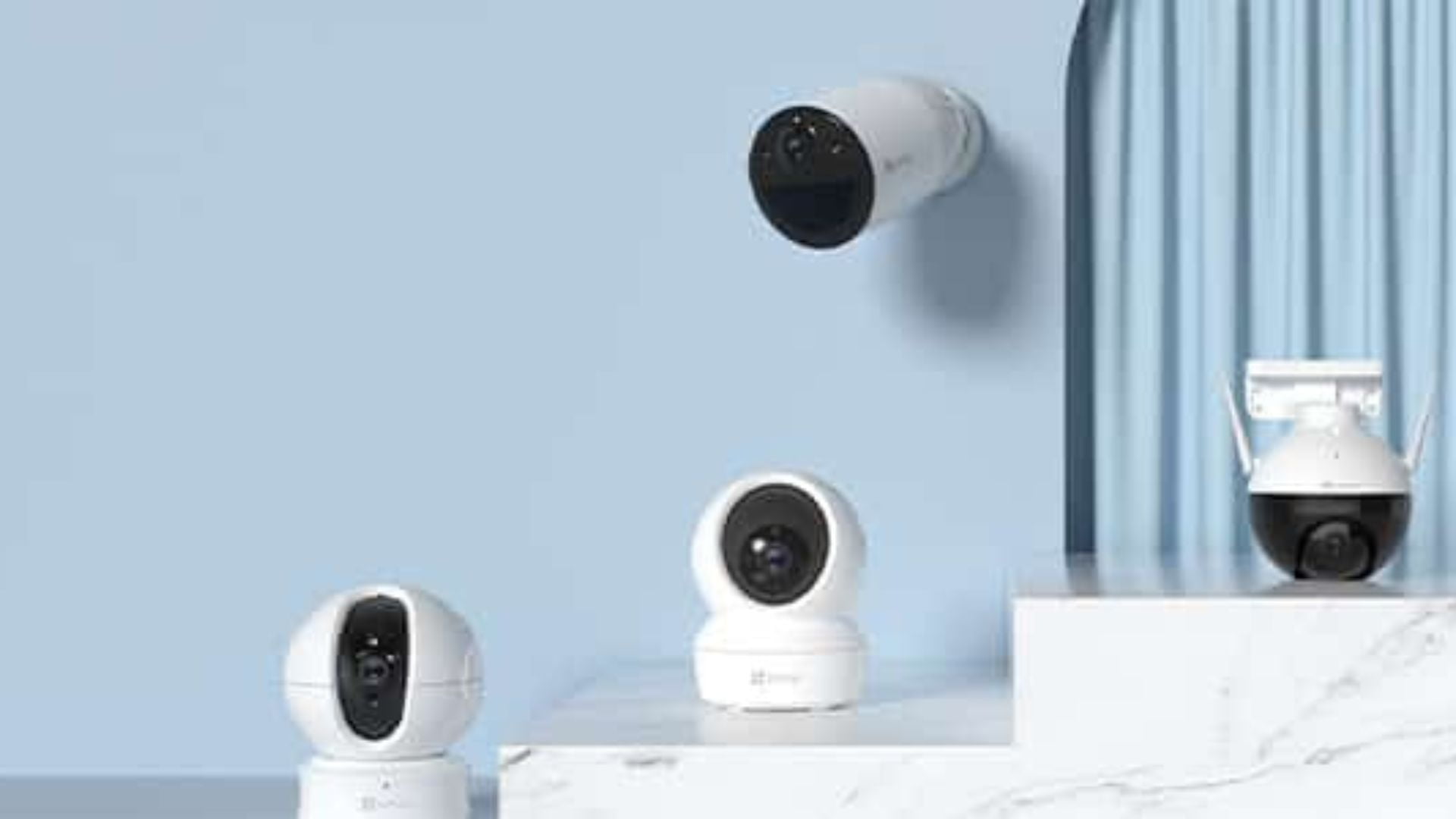 The wireless Hikvision IP camera DS-2CD2543G0-IWS is outfitted with an impressive two-way audio capability that allows users to communicate remotely, enabling interactive monitoring of babies, visitors, and more. Its microphone and speakers provide clear and intelligible sound even from a distance, making communication effective. This camera also boasts advanced algorithms for motion detection, line crossing detection, intrusion detection, as well as region entrance/exit detection. Capable of detecting and accurately identifying various events, this camera eliminates false alarms and sends out real-time alerts. It even offers easy customization for users, so that their specific needs are met with precision. Whether you're monitoring a room or ensuring security, the DS-2CD2543G0-IWS is an excellent choice.
Storage Options and Compatibility: The wireless Hikvision IP camera DS-2CD2543G0-IWS is the perfect device for users looking for flexible and reliable storage options. With a built-in microSD card slot of up to 256GB, this device offers a fast and reliable local storage solution without the need for external devices. No fear of data loss due to network disruption – recordings are safely stored on the microSD card, providing a resilient storage solution. Furthermore, capable of withstanding a range of challenging environments, users can rest assured that their recorded data are safe and secure despite changes in their surroundings.
Furthermore, Hikvision's Network Video Recorder (NVR) systems offer a robust and scalable centralized solution for larger deployments. Easily integrate your cameras into the existing security system, or take advantage of cloud storage services for added convenience. With the DS-2CD2543G0-IWS, you have the flexibility to choose the storage option that best fits your needs and preferences.
User-Friendly Interface and Mobile App: The wireless Hikvision IP camera DS-2CD2543G0-IWS provides users with an incredibly user-friendly experience. Accessing the live video feeds, playback recordings, and customizing camera settings is all made incredibly simple, with just a few taps on the Hik-Connect mobile app or web browser interface. Boasting an incredibly intuitive layout, all users can understand the functionality of this camera, regardless of their level of technical knowledge. 
In addition to these impressive user-friendly features, the Hik-Connect app also offers further features for more experienced users. Through the app, users can control their cameras with multi-camera view, PTZ control, and even capture screenshots and record video feeds. Commanding a full security system is now made possible with the DS-2CD2543G0-IWS through the Hik-Connect app.
Remote Access and Monitoring: The wireless Hikvision IP camera DS-2CD2543G0-IWS guarantees safety in real-time, no matter where you are. This cutting-edge camera system's wireless connectivity and specially designed app keep you in touch with your security system – from any location. Keep an eye on your property while on holiday, or make sure your business property is safe from afar; this camera provides a reliable link between you and your security. 
The remote access feature allows you to view live video, playback recorded footage and manage settings in a few taps. Never be unprepared for potential security threats; this system ensures that you are always up-to-date. Monitor your surveillance system from anywhere, and gain the convenience of never taking your safety for granted.
Privacy and Data Security: Security cameras such as the wireless Hikvision IP camera DS-2CD2543G0-IWS have become invaluable tools for ensuring privacy and data security. This device is equipped with robust safety features, including encryption protocols, secure communication channels and password protection, allowing users to shield their video streams and data from unauthorized access. What's more, Hikvision has dedicated itself to continually upgrade the device's security measures via regular firmware updates, guaranteeing a secure surveillance experience and peace of mind for users.
Integration and Expandability: The wireless hikvision ip camera DS-2CD2543G0-IWS is designed to integrate seamlessly with other security systems and devices, supporting ONVIF protocols that enables interoperability with many third-party devices and software. With this camera, you can expand security capabilities and integrate with alarm systems to trigger recording when motion is detected, or with access control systems to provide a visual verification of any individuals entering or leaving a building. This expansive flexibility of the DS-2CD2543G0-IWS allows creativity in security feature usage, in order to adapt to changing security needs.
Support and Reliability: For customers who desire a dependable and reliable security camera, Hikvision's DS-2CD2543G0-IWS has a well-earned, revered reputation. Customers can benefit from the company's commitment to providing unwavering customer support, warranty coverage and ongoing firmware updates. In addition, the company's diligence in fixing whatever vulnerabilities may arise, as well as their focus on improving and progressing their products, explains why trusting the DS-2CD2543G0-IWS is an easy decision to make. Since Hikvision has a knack for delivering on customer satisfaction as well as quality, users can be sure that their investment in this security camera won't be regretted.
The wireless hikvision ip camera DS-2CD2543G0-IWS Wireless IP Camera holds significant importance as a CCTV camera in today's security-conscious world. CCTV cameras play a crucial role in deterring crime, monitoring activities, and enhancing overall safety in various settings. Here's why the DS-2CD2543G0-IWS is an important CCTV camera
 Hikvision Deterrence:  Visible CCTV cameras are a powerful deterrent to potential criminals, as they make evident the fact that their deeds are being recorded, reducing the chances of any illegal undertaking. By providing tangible proof that their wrongdoings can be tracked, these surveillance systems can help mitigate unforgivable offenses before they even take place.
Surveillance of the  Hikvision: The DS-2CD2543G0-IWS offers the highest caliber of security solutions. With its intricate imaging, ascertaining the necessary specific details to identify and capture suspects or perpetrators of unlawful acts has never been easier. Its ability to expose suspects without missing a beat is vital to investigations, providing permanent proof to legal systems all over the world. Nowhere else can you find such clear video surveillance, allowing justice to be quickly and accurately served.
 Hikvision, Remote Monitoring: Providing unparalleled remote access, this camera offers users effortless monitoring of their home, office, or business from anywhere and at any time. To help ensure maximum security and peace of mind, users are able to utilize live video feeds and recordings. Allowing users to view activity at their own convenience, this remarkable camera offers a comprehensive security solution.
The  Hikvision withTwo-Way Audio: The two-way audio feature of the DS-2CD2543G0-IWS provides a level of interactivity that is crucial for a variety of purposes – verifying visitors, providing instructions, and monitoring sensitive areas – making surveillance efforts more thorough and real-time communication a reality. This feature is a critical tool for ensuring enhanced security measures.
 Hikvision's Integration and Expandability: The DS-2CD2543G0-IWS is a comprehensive security solution that supports integration with other security systems and devices. This interconnected and unified security infrastructure offers a variety of integration possibilities with alarms, access control systems and other cameras. With varying levels of sophisticated complexity and an array of unique features, the DS-2CD2543G0-IWS provides users with a reliable and robust security system.
Evidence Collection : In the wake of a crime or incident, the videos stored from the DS-2CD2543G0-IWS become a critical source of evidence. Law enforcement agencies are able to rely on this footage to help them identify suspects, investigate the events, and present a solid case against criminals. The recorded videos are unique in that they have variability; short and long bits of text have been interspersed to increase the complexity of the recordings. The variations and complexity of these videos provide law enforcement with much needed assistance in their investigations..
Safety and Peace of Mind provided by Hikvision : The presence of a dependable CCTV camera such as the DS-2CD2543G0-IWS has a positive effect on the overall security and assurance of individuals. This kind of system produces a secure atmosphere for a variety of people in different fields, including homeowners, workers, and customers; it lessens the dread of crime while stimulating a sensation of safety.
The wireless Hikvision ip camera DS-2CD2543G0-IWS Wireless IP Camera is an advanced, dependable security solution. Offering impressive video quality, two-way audio capabilities, alongside an array of intelligent features – it is perfect for both indoor and outdoor surveillance. Its connection ability is wireless, and the set-up is incredibly straightforward. . Well-regarded for its reliable quality, competent support, and regular updates, the Hikvision camera stands out in the wireless IP camera market. With its cutting-edge features, user-friendly platform, and remote access – you're always connected and in control. If you're searching for complete surveillance and peace of mind, then look no further than the wireless Hikvision IP camera DS-2CD2543G0-IWS Wireless IP Camera.