Embrace the Future with Wi-Fi Cameras for Seamless Connectivity
Alpha Capital Security Systems LLC offers Wi-Fi cameras in Dubai that are easy to use and provide reliable surveillance. With our cameras, you can stay connected to your surveillance system from anywhere in the world. We offer a range of Wi-Fi cameras to meet your security needs and ensure you find the perfect solution. Our cameras are designed to be user-friendly and provide seamless connectivity. Whether at home, work, or traveling, our cameras keep you connected to what matters most.
If you want to improve the security and surveillance of your home, WiFi cameras are an excellent option to consider. These cameras, also known as wireless IP cameras, offer the convenience of remote monitoring and easy installation. By connecting to your home's WiFi network, they allow you to access live video feeds and recordings from your smartphone or computer. WiFi cameras come in different types for both indoor and outdoor use and offer features like signal detection, night vision, and two-way audio communication. With WiFi cameras, you can have peace of mind, knowing your home is protected even when you're away.
Wifi Cameras for Business
If you want to enhance the security and surveillance of your business, WiFi cameras are a great solution. They offer wireless connectivity, which means you can monitor your business premises from anywhere with an internet connection. WiFi cameras not only provide real-time video streaming but also allow remote access and control, making them a cost-effective and efficient choice for business owners. By investing in WiFi cameras, you can keep an eye on your property, assets, and employees, ensuring the safety and security of your business. So, consider WiFi cameras to achieve peace of mind and round-the-clock protection for your business.
Indoor Wireless Camera with Audio
When searching for home security solutions, many people prefer indoor wireless cameras with audio to enhance their monitoring capabilities. These WiFi cameras provide remote viewing and two-way audio communication, allowing users to see and interact with those on the other end. They have become increasingly popular due to their easy installation and user-friendly mobile apps. WiFi cameras are reliable and accessible solutions for comprehensive indoor security, whether you want to keep an eye on your loved ones, pets, or property. If you're looking for WiFi cameras with audio, you're on the right track to securing your peace of mind.
Contact Us : +971 55 408 4213 or Email: amjad@acssllc.ae
Outdoor WiFi cameras are a great way to protect your property and monitor your surroundings. You can use your smartphone or computer to remotely view real-time video feeds, meaning you can stay connected to your home or business no matter where you are. These cameras can withstand weather conditions and provide clear video footage, ensuring your outdoor spaces are safe and secure. With their advanced connectivity and functionality, outdoor WiFi cameras are an excellent choice. If you need top-notch security and surveillance solutions, consider investing in outdoor WiFi cameras. They are a popular choice for modern security needs.
Alpha Capital Security System LLC offers a free consultant service to help you identify and address your security concerns. Contact us today to schedule your consultation and protect what matters most.
WiFi cameras are a popular choice for home security due to their flexibility and convenience. They can be placed anywhere and allow you to view footage remotely through your mobile device or computer. This makes them a valuable addition to any surveillance system. You can monitor your property in real-time, receive alerts, and store recordings in the cloud. WiFi cameras are typically used for indoor and outdoor monitoring, giving you peace of mind and allowing you to keep a vigilant eye on your surroundings. Whether you're concerned about home security or want to keep an eye on your pets, WiFi cameras are a versatile solution for your monitoring needs.
Wifi Camera Price in Dubai
| Brand | Model Name | Price in Dubai (AED) |
| --- | --- | --- |
| Hikvision | DS-2CD2142FWD-I | 500 |
| Dahua | IPC-HDW1431S | 400 |
| Axis | M3045-V | 700 |
| EZVIZ | C3W | 250 |
| Imou | Bullet 2E | 150 |
Hikvision 2 MP Outdoor Fixed Bullet Network Camera with Build-in Mic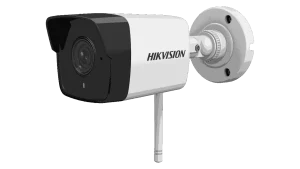 High quality imaging with 2 MP resolution
Efficient H.265+ compression technology
Clear imaging even with strong back lighting due to DWDR technology
Up to 128 GB SD card slot for storage
Wi-Fi connection with Hik-Connect directly is not possible
Water and dust resistant (IP66)
Dahua F2C-PV new-products 2MP Wi-Fi Bullet Network Camera
2-MP 1/3″ CMOS image sensor, ensuring low luminance capabilities and high-definition image quality.
Outputs a maximum of 2 MP (1920 × 1080) resolution at 25/30 frames per second (fps).
Utilizes H.265 codec for high compression rates and ultra-low bit rates, optimizing storage efficiency.
Equipped with built-in warm light and IR LED, offering a maximum illumination distance of 30 meters.
Supports SMART H.264+/H.265+ for flexible video coding, making it suitable for various bandwidth and storage conditions.
Axis Axis M1034-W 0522-004 Wireless HDTV Network Camera
Wireless Connectivity
HDTV Quality
Network Camera
Wide Viewing Angle
Two-Way Audio
Motion Detection
Infrared (IR) Night Vision
Mobile Viewing
Easy Installation
Power over Ethernet (PoE)
Multi-Platform Compatibility
Built-in Microphone
Weatherproof Design
Remote Pan and Tilt
Digital Zoom
EZVIZ TY2 Smart Indoor Wi-Fi Camera FHD 1080 - Motorized Pan and Tilt 360° Visual Coverage
360-degree field of view ensures maximum coverage with zero blind spots
Smart Tracking automatically tracks the movement of any object and alerts the user in real-time
Two-way communication feature lets you speak to those in front of the camera
Designed with powerful Infrared LEDs that let you see up to 10m in low-light conditions
EZVIZ application lets you capture, save, protect, and share valuable information through your smartphon
CCTV Camera for Home with Mobile Connectivity
For increased security and peace of mind, you may want to consider investing in Wi-Fi cameras for your home. These innovative CCTV cameras come with mobile connectivity, which allows you to remotely monitor your property using your smartphone or tablet. With Wi-Fi cameras, you can keep a watchful eye on your home even when you're not around. You'll get real-time alerts and access to live video whenever you need it. The convenience of mobile connectivity makes Wi-Fi cameras an excellent choice for modern homeowners looking for an efficient and user-friendly surveillance solution.
Hikvision's WiFi cameras, also known as wireless surveillance cameras, provide advanced security and monitoring solutions for residential and commercial settings. These cameras utilize cutting-edge technology to offer seamless connectivity and remote access to video feeds. Whether you want to improve your home security or safeguard your business premises, Hikvision's WiFi cameras are a reliable choice. With these cameras, you can conveniently monitor your surroundings, ensuring peace of mind and real-time access to vital information, making them an indispensable addition to your security infrastructure.
Alpha Capital Security Systems LLC is dedicated to delivering a wide range of security services in Dubai, UAE, to meet all your safety needs. Our services include CCTV camera installation, maintenance, and AMC (Annual Maintenance Contracts), as well as efficient access control systems. We prioritize your safety using top brands such as Hikvision, Dahua, Axis, Ezviz, Imou, and Samsung. We are reserved to providing the latest technology, including WiFi cameras, to ensure our clients receive the highest level of security possible. Our expert team and top-tier equipment guarantee that your security concerns are addressed comprehensively and professionally, providing the highest client satisfaction.